Hire Me!
Looking forward to join your talented team!
After finishing my PhD with a focus on software-based networks probably in March 2017, I am looking for a job in a team of talented peers. I have broad experience in IT infrastructure maintenance as well as networking.
I'd either work full remote or - if we both share the luck to be situated in the same nice area - in reach of Würzburg, Germany:
Due to my widespread interests, I get easily fascinated by a wide variety of jobs. I can very well imagine to work in one of the following areas:
infrastructure engineering / SRE at a large scale, preferably with Kubernetes and friends
networking engineering / network programming at large scale using software defined networking
product development related to software-based networks
fostering a DevOps culture in your organization by inspiring people to talk and helping them to automate
Please note: I don't want to be your one-man-show, i.e., being your sole infrastructure guy. I'd really like have a team, from which I can learn and discuss with. Peer review culture would receive extra bonus.
More information can be found in my StackOverflow Developer Story.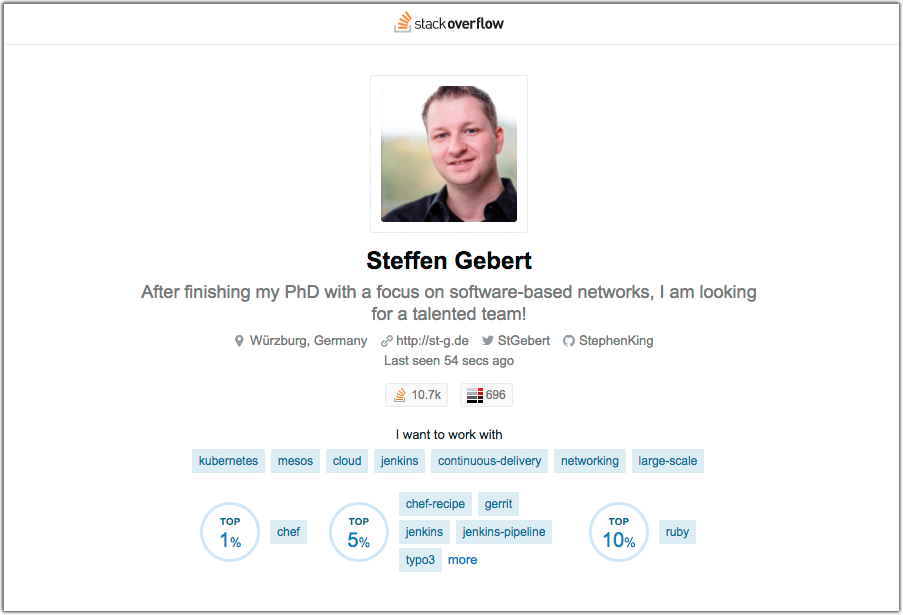 Links to social networks can be found in the footer. You can contact me via st+job-via-stgde@st-g.de.